Rock Hill High School
In Memory
Sandy Mayo (Boulware)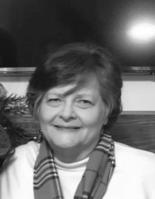 Sandra Mayo Boulware
April 21, 1950 - March 27, 2021
Rock Hill, South Carolina - Rock Hill-Sandra Mayo Boulware "Sandy", 70, of 660 Robertson Rd, passed away Saturday, March 27th, at her home.
Born in Rock Hill, Sandy was the daughter of the late Harvey T. Mayo and the late Rachel Alford Holland. A graduate of Rock Hill High School, Sandy attended Winthrop College and was a member of The Church of Jesus Christ of Latter-Day Saints. She retired from the South Carolina Heart Center, and was a past employee of Herlong Pediatrics and Dr. Robert Wilson ENT.. Sandy was also a breast cancer survivor.
She is survived by her husband, Ronald E. Boulware Sr.; a son, Ronald E. "Bo" Boulware Jr.; a daughter, Meghan B. Switzer (Chris); a brother, William H. 'Bill" Mayo (Gayle); and six grandchildren, Chullain, Victoria, Aidan, Connor, Jackson, and Ross.
Funeral Services will be 2 pm Thursday, at The Church of Jesus Christ of Latter-Day Saints, Rock Hill Ward, 1883 Saluda St., Rock Hill. Interment will be in Forest Hills Cemetery. The family will receive friends from 6 pm until 8pm, Wednesday, at the church.
Memorials may be sent to the Susan G. Komen Foundation, 127 King St., Suite 205, Charleston, S.C., 29401.
Whitesell Funeral Home is serving the family.
Published in The Herald on Mar. 31, 2021.