Rock Hill High School
In Memory
Judy Ludlam (Nunn)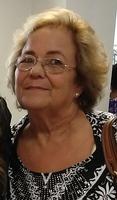 Catawba, SC – Judy Ludlam Nunn, 70, passed away on Wednesday, January 27, 2021 at Piedmont Medical Center.
Judy was born in Rock Hill, SC, and was a graduate of Rock Hill High School. She was the daughter of the late Stanley David Ludlam and the late Lucille Bullard Ludlam. Judy was a Administrative Assistant of DLC Septic. She loved children and was known as "Momma Judy". She was a member of the Ladies of the Moose and love her garden. In addition to her parents, Judy was preceded in death by her husband, John Wesley Nunn.
Services for Judy will be held at 1:00 pm, on Sunday, January 31, 2021 at Greene Funeral Home Northwest Chapel, 2133 Ebenezer Road, Rock Hill. Judy's service will be live streamed on Greene Funeral Home web site (www.greenefuneralhome.net). COVID protection will be required at the service. The family will receive friends at the home of Doris Ludlam Chitwood, 2187 Greystone Circle, Catawba, SC 29704. Burial for Judy will take place 1:00 pm, Monday, February 1, 2021 at Riverside Cemetery in Nichols, SC.
Judy is survived by her daughter, Jenny (Dan) Sexton of Rock Hill; her two sisters, Doris Ludlam Chitwood of Catawba, SC and Lucinda Ludlam Reeves of Springdale, AR; her brother, Samuel David (Cynthia) Ludlam of Rock Hill, SC; her two grandchildren, John David Collins and Jordan Katibeth Boyer; her five nephews, Joseph Chitwood, Ryan Reeves, Shawn Reeves, Samuel Ludlam, Jr., and Joshua Ludlam; three nieces, Heather Chitwood, Amber Henry, and Caitlin Simmons.
In lieu of flowers, memorials may be made in Judy Nunn's name to Shriners Hospitals for Children, 950 W. Faris St., Greenville, SC, 29605.
Condolences may be made at www.greenefuneralhome.net.